Old Normal, New Normal and Better Normal: Back to the Future or Present is the Future
November 8, 2021 10:23 pm
News & Events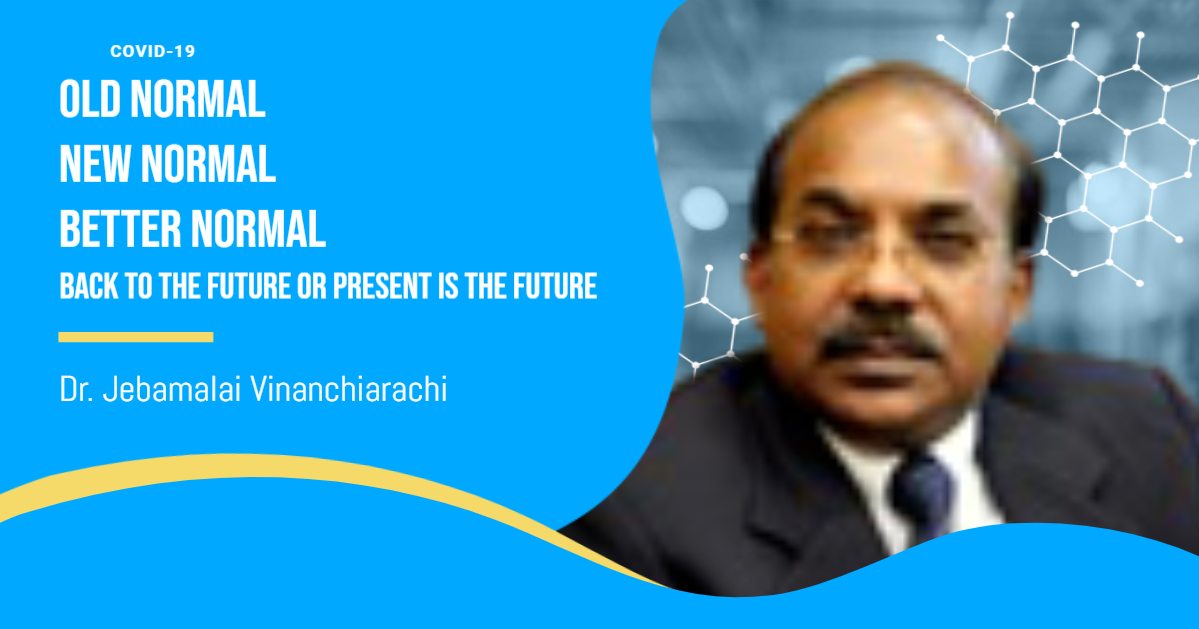 Dr. Jebamalai Vinanchiarachi
Amidst many challenges that surface in the wake of the Coronavirus, new challenges emerge. Back to the future entails following traditional and old patterns of living to usher in the tenets of sustainable development, with a priority focus on fostering a healthy pace of development. Traditional belief and practices seem to gain importance in view of their indelible impact on the quality of life. The transformative shift from old normal and new normal is underpinned by determined efforts to live a normal life drawing largely on traditional belief, values and attitudes towards desirable development. Rapid, revolutionary and complete changes triggered by disruptive technological marvels may lead to creative destruction where old things will stumble and new and dynamic sources of growth emerge. Such technologies include advanced digital manufacturing systems, artificial intelligence, additive manufacturing, augmented reality, big data management, cloud computing, 3-D printer, electromobility, internet of things, internet of services, internet of electricity and mindnet.
Economists seem to overdo on the possible impact and compact of new technological marvels on the quality of life and society. What is needed is neither old normal nor new normal, but better normal which has a unique blend of both old values, attitudes, style of living, traditional practices and the positive benefits of disruptive technological marvels which create numerous opportunities contribute to better way of living – the future we want.
The new normal is the outcome of COVID-19. In the wake of the ramifications caused by the Coronavirus, life is not as usual. People are forced to adapt themselves to the new style of living, new mode of working, new patterns of production and new means of marketing products. People seem to get themselves acclimatized to the new normal. In the new context of living, it is not the question of the survival of the biggest or smallest but the fastest. Only those who keep pace with rapidly changing facets of reducing their distance to the frontiers of new normal will survive. Others will fall apart.
The phrase post-COVID-19 era is a myth. As the world passed through stone age, iron age, carbon age and green age, we are currently passing through the COVID age. The global economy is grinding to a halt as most countries are locked down to ensure social distancing as the effective means to erase Coronavirus. This is not the for the first time, global economic downturn is triggered by unexpected developments. During the 20th and 21st centuries, global economic downturns happened 18 times, leading to deep recession and depression. Every time, it recovered to create new opportunities. It is important that we learn lessons from interventions which stimulated recovery and development in the past. In the past, the focus was on stimulating investment and consumption as sources of recovery and prosperity. Now, the focus seems to be on stimulating research and innovation in order to create new and dynamic sources of growth, with a priority focus on public health which seems to govern the so-called new normal.
The new normal entails a high degree of adaptability, forced entrepreneurship in the wake of prolonged period of joblessness. A number of dynamic and innovative entrepreneurs emerged from a potential crises. An American started cultivating potato in the US during the Great Depression of the 1930s as a source of his livelihood. Today his family is supplying 67 per cent of potato chips needed for making French fry in the US. Another American started a small retail store to make his livelihood during the Great Depression. Today, the family his running the biggest supermarket chain. Everything stemmed from a deep crisis.
Emerging business opportunities from the current crisis in four spheres of L are interesting: Life, livelihoods, lifestyle and leveraging with the virtual world. We are back to the future in saving lives as we tend to follow traditional medicines and traditional medical practices. In the sphere of creating sustainable sources of livelihoods, we notice the emergence of new opportunities. The new style of living also creates new opportunities. Open innovation and value creation network in the virtual world is emerging as the new development reality. When everything happens in the virtual world, what will happen to educational institutions? Technology has become the most effective education accelerator, and technological marvels are attuned to effective individual learning. As evidenced by the development experiences of countries at different levels of development and degree of industrialization, each challenge hitherto emerged as an opportunity. As adversity becomes an opportunity, new and dynamic sources of growth would surface. Each challenge is an opportunity. Our personal and professional response to convert challenges into opportunities and opportunities into sustainable sources of a healthy pace of wealth creation is a discovery process. We are discovering the process thanks to COVID-19.
As new sources of dynamic growth make deep inroads into the transformative shift from quantitative increase to qualitative improvements, many firms may disappear and new firms will emerge; sunset industries and sunrise industries, respectively. Knowledge is a source, and innovation is a force. And adaptation is the key to unlock one's potential to survive in a changed environment.
Sunset productive and service activities
The sunset productive activities include retail industries, travel, tourism, automobile, cinema, logistics, public transportation, restaurants, luxury products, live sports, real estates, oil and gas, construction, events and conferences. This does not necessarily mean that they will totally disappear. They may disappear to reappear in a different form which is compatible with the new situation as the sun sets to rise again. In the short- and medium-run those who are empowered in the declining industries will lose their jobs. They will be forced to look for alternate sources of employment and income. Government institutional support services and services rendered by NGOs could embark on reskilling programmes to enhance the functional literacy and skill rate which could enable them to fit into the changing patterns of skills needed in those sectors. With enhanced adaptive capabilities and skills, they could also emerge as entrepreneurs.
Sunrise productive and service activities
Sunrise productive and service activities include, among other things, digital products, structured knowledge, gig economy paying per task, stock market investing, home gardening, online coaching and teaching, alternate energy, insurance, alternate medicines, gaming, healthcare, affiliate marketing, network marketing, data science, disruptive technologies, and traditional values and systems which signify the true purpose of life. Productive activities will be increasingly automated, and disruptive technologies will play an important role. The facets of Industry 5.0 indicate that soon there will be a dramatic change in the nature of workforce. Workers will be conditioned to work with robots, artificial intelligence and smart machines. Sounding a pessimistic interpretations of new patterns of working is tantamount to the poverty of economic thinking. When computers were invented, the critics criticized computers thinking that all typists would lose their jobs. Computers were interpreted as a substitute to type-writers. Many did not realize millions of jobs computer-related activities could generate.
Subject to affordability, families may prefer to have 3-D printer, home theatre, home gym, home office, etc., Families may also be equally satisfied with the minimum required for decent living. Such a pattern of living will reduce their cost of living, leading to an increase in their savings. Revisiting traditional values and the tendency to look at the scientific underpinnings of traditional medical practices and medicines are also likely to increase. Theses are all the facets of a better normal.
Walking ahead of the march towards better normal
COVID-19 rang the alarm bell for the urgent need to make huge investment in healthcare infrastructure. There should be one isolation centre in each district to treat patients suffering from diseases which spread from person to person. Africans eradicated the Ebola virus through the creation of such isolation centres. Complete isolation entails those patients in one isolation centre will not transmit the disease to others. Personal cleanliness and concern for public hygiene and health have already gained importance in the minds of the people. This should be sustained for ushering an enabling healthy environment. Social interaction will seldom happen, and people will soon be used to it. New mode of working may be constrained by a number of factors, such as resistance to learn new things and adapt and lack of communication skills. Once the working class is conditioned to live with work from home, the mode of working will become way of life. In productive and service operations, where the physical presence is inevitable, newly codified legal norms will govern the nature of such work within the framework of prescriptions and proscriptions to ensure healthy environment in workplace.
As we all march towards a better normal, we need to reinvent and be one step ahead of this march in terms of our mindset which generates and accepts innovative ideas which would pave the way for simple living and high thinking. In a better normal, there will also be a shift from mass production to production by the mass. Sitting at home, people will be increasingly involved in the local, national, regional and global value chains. With enhanced adaptive capabilities to use modern technology and devices and to commercialize new knowledge, participating in the global value chain through the virtual world will ensure a better normal, which will save the people and the planet when the new technological marvels make traditional values, attitudes and practices reveal their optimal capacity to usher in high quality of life. The blend of traditional values and disruptive technologies should ensure economic efficiency, ecological compliance and social inclusion.
The present is the future. What we do today will determine our quality of life tomorrow. Economic development is an ongoing process with a constant injection of restructuring to keep pace with the rapidly changing facets of development across all sectors of the economy. In keeping pace with the frontiers of best practice for a better normal, we need to reduce our distance to those frontiers. Knowledge serves as a source and innovation as a force, moving us at least one step ahead of the march towards better normal in terms of our economic thinking. Failing which, we will continue to be strangled in the clutches of the poverty of economic thinking.

Dr. Jebamalai Vinanchiarachi is a globally renowned expert on sustainable development, with over 30 years of experience in the United Nations Industrial Development Organization (UNIDO), Vienna, Austria, where he served in various capacities, and eventually retired as the Principal Adviser to the Director General of the UNIDO.

After his retirement from the UN, he worked as a Senior Research Fellow at the University of Malaya, Kuala Lumpur, Malaysia. Currently, he is the Principal Adviser to the Knowledge Management Associates, Vienna, Austria, and the Chairman of the Experience Foundation, Thiruvananthapuram. He continues to serve as a Lead Consultant intermittently for various UN and other Agencies on projects related to the creation of sustainable sources of livelihoods, capacity building, innovation systems and innovative policy interventions.

He has to his credit several degrees (M.A., M.Phil., D.H.Ed., Ph.D.) with distinctions. He has authored several journal articles, books and reports, highlighting the changing patterns of sustainable development, with a focus on economic efficiency, ecological compliance and social inclusion. His recent books include Myths and Realities of East Asian Model of Development, India's Time, Rethinking Development Realities, Intervene to Industrialise, In Joy and Sorrow, The Poverty of Economic Thinking. His latest book is titled The Resilience of the Indian Economy and the Great Reset.

He was twice awarded the UNIDO Director General's Award for outstanding performance and professional excellence. A Professional excellence award was given by the Auckland-based Indo-New Zealand Business Association in recognition of his great contribution to the international community. He is also the recipient of the Global Excellence Award given by the Global Indian Association. In 2017, he was given the Dynamic Indian of the Millennium Award by the K G Foundation. The Vienna-based Kerala Community gave him a life-time achievement award as a great scholar and gentle helper. A similar life-time achievement award for professional excellence was given to him by the management of Pioneer Kumarasamy College, Nagercoil, where he started his career as a lecturer in 1970. At the first World Tamil Economic Conference, he was given the international award, the Tamil Crown Jewel of the World. He has won the coveted Raja Sir Annamalai Chettiar Gold Medal from St. Joseph's College, Trichy, India, for being the best outgoing student of M.A. Economics in 1969.

Tags: betternormal, business, Coronavirus, Covid 19, drjebamalai, iot, lifeaftercorona, newnormal, oldnormal, opportunities, realnormal, technology